Green
'Absolutely criminal': Protestors hospitalised during anti-reservoir rally in western France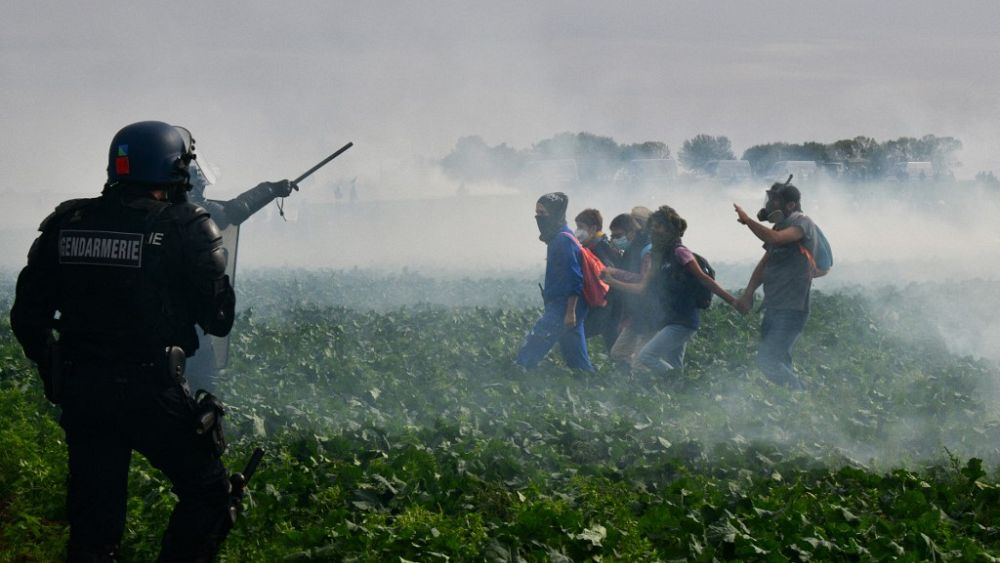 A demonstration turned violent on Saturday as police and protestors clashed at the site of a planned reservoir in western France.
Thousands of environmental activists joined the demonstration against irrigation reservoirs in the rural community of Sainte-Soline.
According to the Interior Ministry, 28 police officers were injured, two of them seriously. Protest organisers say 200 demonstrators were hurt. 
The local public prosecutor's office has confirmed that seven injured demonstrators were treated by the emergency services, three of whom were treated as absolute emergencies and hospitalised. One has been reported as being in a coma, information that has not been confirmed by the authorities. Two journalists were also injured.
In a post on Twitter, Prime Minister Elisabeth Borne denounced what she described as an "intolerable outpouring of violence", blaming "the irresponsibility of the radical discourse that encourages these acts."
Soutien aux gendarmes et pompiers engagés sous l'autorité de la @Prefet79 pour assurer l'ordre républicain face à un déferlement de violence intolérable à Sainte-Soline.

Des actes inacceptables tout comme l'irresponsabilité des discours radicaux qui encouragent ces agissements.

— Élisabeth BORNE (@Elisabeth_Borne) March 25, 2023
The clashes around the reservoir being built in the rural community of Sainte-Soline, in the Deux-Sèvres region, highlighted increasing tensions over water sharing in the face of climate change.
French authorities argue that giant irrigation reservoirs are necessary to allow farmers to continue growing food crops but opponents see the project as an attempt by agribusiness to monopolise water supplies. 
In pictures: Parts of Europe face risk of drought after historically low winter rainfall
Food shortages: The perfect storm that led to UK supermarkets rationing fruit and vegetables
What happened at the anti-reservoir protest?
At least 6,000 people according to the prefecture, and up to 30,000 according to the organisers, converged on Sainte-Soline. Their aim was to "stop" the construction of an open-air reservoir, intended for agricultural irrigation, which has long been contested.
They were met by more than 3,000 police and gendarmes mobilised to defend the site, with the authorities claiming that "at least a thousand violent activists" had joined the protesters. 
As the demonstrators reached the site, violent clashes broke out for an hour, turning the place into a scene of war, with loud bangs and burning vehicles.
The attackers used "fireworks mortars, Roman candles and large Molotov cocktails" among other projectiles, according to police, who retaliated with 4,000 tear gas and non-lethal projectiles. 
No arrests were made during the demonstration, according to the public prosecutor. Eleven people had been arrested beforehand during controls which led to the seizure of many weapons.
Authorities and organisers blame each other for the clashes. The Minister of the Interior, Gérald Darmanin, denounced the "inexcusable" violence of the "extreme left", while the organisers blamed "absolutely criminal violence" by the police.
Before leaving the scene, the demonstrators claimed to have damaged a pump and a pipe in the basin. 
"We will continue the fight," said organisers in the nearby village of Melle, where an "international water forum" is being held in parallel until Sunday.
Two billion people don't have clean drinking water, UN report says
Why are protestors opposing the reservoir?
As with an earlier demonstration in the autumn, the clashes have largely overshadowed the fundamental debate on water sharing in the face of climate change.
The Sainte-Soline basin is part of a set of 16 reservoirs, with a total capacity of six million cubic metres, planned by a cooperative of 450 farmers with the support of the state.
They aim to store water drawn from the surface in winter to irrigate crops in summer when rainfall is scarce. Its supporters see it as a condition for the survival of farms in the face of the threat of recurrent droughts.
Will climate change make violent clashes more common?
A UN report released on World Water Day earlier this month said two billion people lack access to clean drinking water globally.
The threat is most acute in various African countries, including Nigeria and Somalia, and countries hit by disasters, like Pakistan which is still reeling from last year's floods.
European countries are starting to feel the effects of drought and heatwaves exacerbated by climate change. Last summer was Europe's hottest on record, according to the EU's Copernicus Climate Change Service (C3S).
Many countries saw drought and wildfires as temperatures soared and rainfall was low. Crops suffered, rivers dried up and thousands of deaths were caused by the extreme weather. 
An unseasonably warm winter has made way for the early onset of weather-related problems this year, with Spain experiencing wildfires over the weekend.
As rising temperatures and prolonged drought continue to place pressure on resources like water, it is likely that clashes such as the one seen in France will become more frequent.
To avoid the worst impacts of climate change, rapid action towards climate targets is needed. The latest IPCC report urged wealthy countries to give funds to help emerging economies keep global warming below 1.5C.