My Europe
China uses Putin's weakness to increase its leverage over Russia, says Ursula von der Leyen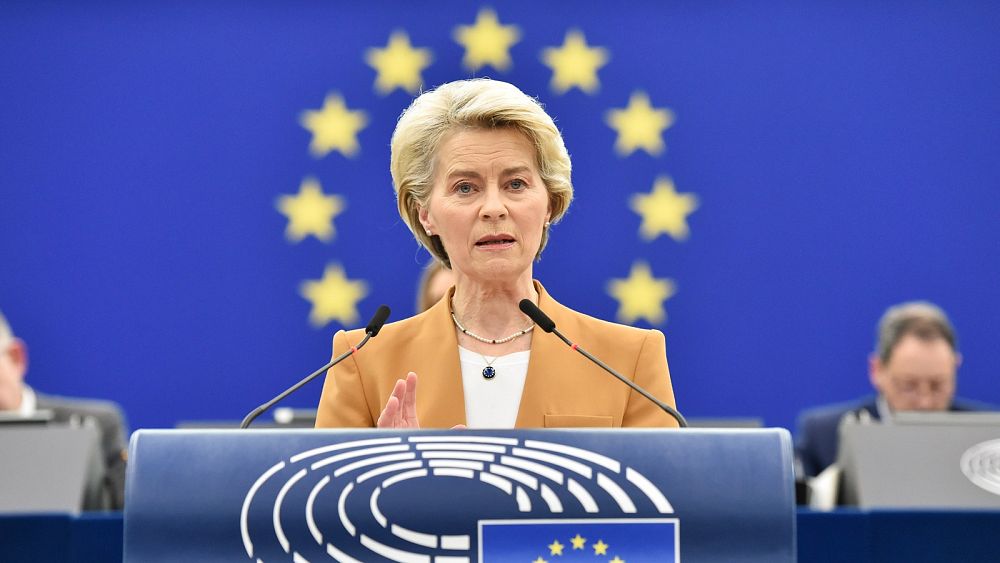 The People's Republic of China is exploiting the weakness of President Vladimir Putin to maximise its geopolitical influence over Russia, leading to a reversal of the power balance between the two long-time allies, Ursula von der Leyen has said in a critical speech.
"Far from being put off by the atrocious and illegal invasion of Ukraine, President Xi is maintaining his 'no-limits friendship' with Putin's Russia," von der Leyen said on Thursday morning.
"But there has been a change of dynamic in the relationship between China and Russia. It is clear from the visit that China sees Putin's weakness as a way to increase its leverage over Russia. 
"And it is clear that the power balance in that relationship – which for most of the last century favoured Russia – has now reversed." 
The European Union and its Western allies have been carefully watching the latest steps taken by China on the international stage, including a high-profile visit of President Xi Jinping to Moscow, suspicions of military aid to the country and a 12-point "peace plan" for Ukraine, which was widely criticised for blurring the lines between aggressor and victim and failing to acknowledge the reality of occupied territories.
China's role in the Ukraine war will be a "determining factor" to define the engagement between Brussels and Beijing, von der Leyen warned.
"China has a responsibility to play a constructive role in advancing a just peace," von der Leyen said.
"Any peace plan which would in effect consolidate Russian annexations is simply not a viable plan. We have to be frank on this point."
Throughout her 40-minute-long speech, the president of the European Commission painted a sober, and at times scorching, picture of the current state of EU-China relations, describing them as "more distant and more difficult," and directly accused Beijing of trumping the free-trade order, bullying small-sized countries, violating human rights, toughening its military standing and ramping up disinformation and coercion campaigns around the world.
"These escalatory actions point to a China that is becoming more repressive at home and more assertive abroad," von der Leyen said.
"China has now turned the page on the era of 'reform and opening' and is moving into a new era of security and control."
Von der Leyen spoke at length about a China that, in her view, is becoming "more repressive at home and more assertive abroad," a commanding superpower that has structured its entire economy and society around the absolute control of the ruling Communist Party and has turned the individual rights of citizens into a mere subordinate of national sovereignty.
"We can expect to see a clear push to make China less dependent on the world and the world more dependent on China," von der Leyen said.
"The Chinese Communist Party's clear goal is a systemic change of the international order with China at its centre. We have seen it with China's positions in multilateral bodies which show its determination to promote an alternative vision of the world order."
De-risking, not de-coupling
Despite the recent turn for the worse – which has seen growing bans on TikTok across European governments, a frozen investment agreement, lingering doubts over the origin of the COVID-19 pandemic a raft of retaliatory counter-sanctions – Ursula von der Leyen said the bloc simply could not afford a clean-cut breakup with China.
"I believe it is neither viable – nor in Europe's interest – to decouple from China. Our relations are not black or white – and our response cannot be either," von der Leyen said, calling for diplomatic stability and open communication lines.
"This is why we need to focus on de-risking – not de-coupling."
The president mentioned climate change and biodiversity protection as two areas where the EU and China can find common ground to tackle global challenges.
On the economy, von der Leyen noted most of the trade in goods and services remained "mutually beneficial" and free from risks. China is the EU's main trading partner when it comes to goods, with total flows worth almost €700 billion in 2021.
"But our relationship is unbalanced and increasingly affected by distortions created by China's state capitalist system," von der Leyen added.
"So we need to rebalance this relationship on the basis of transparency, predictability and reciprocity."
The president pointedly warned about "China's explicit fusion of its military and commercial sectors" and the potential implications for the transfer of sensitive technologies and intellectual property, suggesting her executive would propose a new instrument to screen certain types of investment. 
Von der Leyen made the case for slashing European dependency on China, particularly in the sectors of green technology and raw materials, whose demand is set to skyrocket as the bloc moves towards climate neutrality at a greater speed in the wake of Russia's war.
"We have in front of us a task to refocus on the most important issues. And it is a reflection of the need to adjust our strategy in line with the way the Chinese Communist Party seems to be changing," the Commission chief said, urging member states to avoid falling for "divide-and-conquer tactics."
Von der Leyen's speech was delivered ahead of a joint trip to Beijing with President Emmanuel Macron of France. Notably, the hosts of the events were the European Policy Centre and the Mercator Institute for China Studies (MERICS), the latter of which is under Chinese sanctions.
"At this defining moment in global affairs, we need the collective will to respond together," von der Leyen said, towards the end of the address.
"Nothing is inevitable in geopolitics."