My Europe
State of the Union: Credit Suisse lifeline and Putin rolls out the red carpet for Xi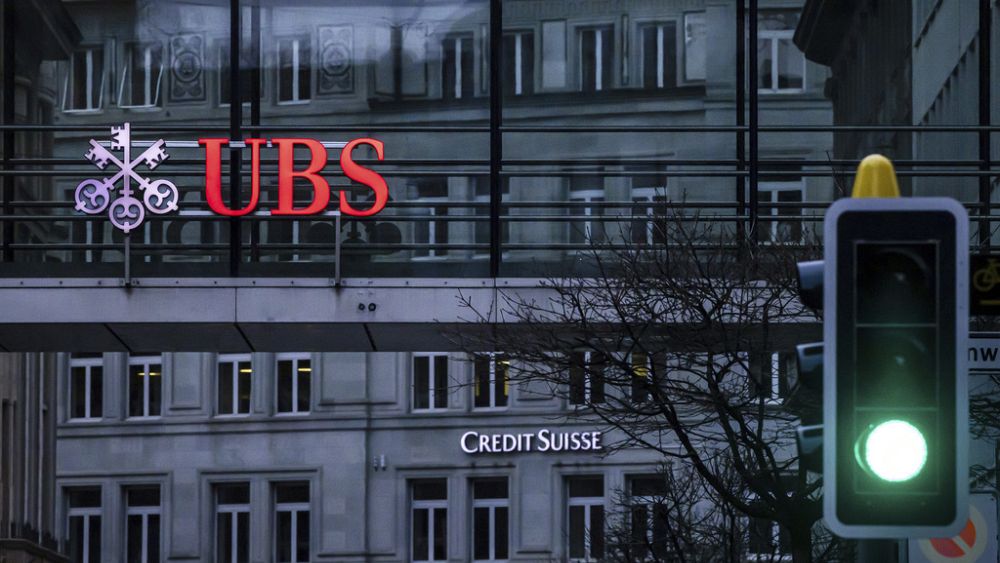 The week started with a focus on the Swiss banking sector, the world's leading wealth management centre, after the government forced through the takeover of failing investment giant Credit Suisse by its rival UBS.
This was after stripping shareholders of their voting rights to get the deal over the line, leaving the tiny country with one mega-bank that has €1.6 trillion of combined assets, roughly twice the size of the Swiss economy.
EU authorities were quick to point out the healthy difference between their banks and our banks.
"We are very confident that our banking sector is solid, is well-capitalised, has strong liquidity ratios and that the rules that apply in Europe are not the rules that have been applied by other institutions, notably by the Swiss authorities," Christine Lagarde, European Central Bank President, said on Monday.
"Switzerland does not set standards in Europe."
Xi goes to Moscow
Russian President Vladimir Putin also hosted his Chinese counterpart, Xi Jinping, this week and the Kremlin pulled out all the stops, with the trip lasting for three days. 
His visit was a powerful political boost for Putin, in which the two countries pledged to strengthen their strategic ties and combat the West. When it came to supplying Moscow with weapons though, there was no mention of it.
Xi also promoted his peace plan for Ukraine while in Moscow, which Putin warily endorsed on Tuesday, saying it could provide the basis for future negotiations.
Politically, both leaders hailed a "new era" in their relationship, putting on a united front against the West. Xi saw himself as being on a peace mission with proposals to end the war in Ukraine – although the word "war" was never mentioned.
NATO Secretary General Jens Stoltenberg was skeptical in his response.
"China, therefore, needs to start to understand Ukraine's perspective and to engage with President Zelenskyy directly if it wants to be serious about peace," he said.
It seems clear what Russia wants from China, but what does China want from Russia? What role does China want to play in Ukraine diplomacy and beyond?
Reinhard Bütikofer, a Green member of the European Parliament said in an interview that the Chinese want to present themselves as makers of a new world order. 
"Xi Jinping is driven by an obsession with making China the globally dominating power by at least 2049, 100 years after the founding of the People's Republic," the German MEP told Euronews.
"He said so in many speeches and I think we here in Europe and, of course, the United States and all our partners and allies should take that ambition very seriously."
Bütikofer added that the EU must deal with Beijing as effectively as possible.
"We should treat China as the systemic problem that the country is, as we have understood over a number of years now. China is not sharing our worldview. China is not sharing our principles. 
"We can, of course, cooperate with a systemic problem, we can compete if they stick to the rules of the competition, but we should not fool ourselves that China, in one way or another, can be seen as a garden variety of some different understanding of multilateralism or rule of law or democracy. They are just the opposite of all of that."
EU summit flies under the radar
European leaders gathered in Brussels Thursday and Friday for what turned out to be an underwhelming event compared to recent ones.
The summit was supposed to focus on the continent's economic situation, as well as its competitiveness, and support for the war in Ukraine, but quarrels between member states not officially on the agenda boiled over into it.
A standoff is ongoing between Berlin and Brussels over the issue of combustion engines and e-fuels, after Germany reneged on an already settled legislative agreement on the matter.
The proposed law targets emissions detected at the exhaust pipeline, which means it will effectively ban new sales of diesel and petrol cars by 2035.
Considered one of the key pieces of the European Green Deal, the law has been divisive since its inception but managed to survive negotiations between the EU Council and the European Parliament, a process known as "trilogues" in Brussels parlay because they also involve the European Commission, the institute that initiates and drafts legislation.
During a press conference on Thursday, European Parliament President Roberta Metsola – who attended the leaders' summit in part – said that rowing back on decisions should not happen.
"We cannot go back on deals because this is ultimately about trust between co-legislators and the credibility of the legislative process."
Nuclear power and its role in the decarbonisation of the European Union is proving divisive among the bloc's member states and has become yet another point of contention chipping away at the Franco-German alliance.
The issue was not meant to be debated by leaders as they met in Brussels on Thursday and Friday yet loomed large over competitiveness and economic talks with France squaring off against Germany and allies Austria and Luxembourg.
Paris wants nuclear to be recognised as a low-carbon energy source in order for it to benefit from a loosening of rules the EU is pushing through to ramp up the deployment of clean tech so it can wean itself off imported fossil fuels, lower energy prices for consumers and businesses and reach its ambition of becoming the first carbon-neutral continent by 2050.
The Commission has put forward multiple texts under its newly-released Green Deal Industrial Plan to allow member states to provide more state aid and slash red tape for projects involving green technologies including renewables, hydrogen infrastructure, heat pumps, geothermal energy and carbon capture and storage.
Under the proposals, "cutting edge nuclear" has access to some simplified rules and incentives, Commission chief Ursula von der Leyen said on Thursday, "but only, only the net zero technologies that we deem strategic for the future, like solar panels, batteries and electrolysers, for example, have access to the full advantages and benefits."