My Europe
State of the Union: Von der Leyen goes hard on China and inflation in the EU persists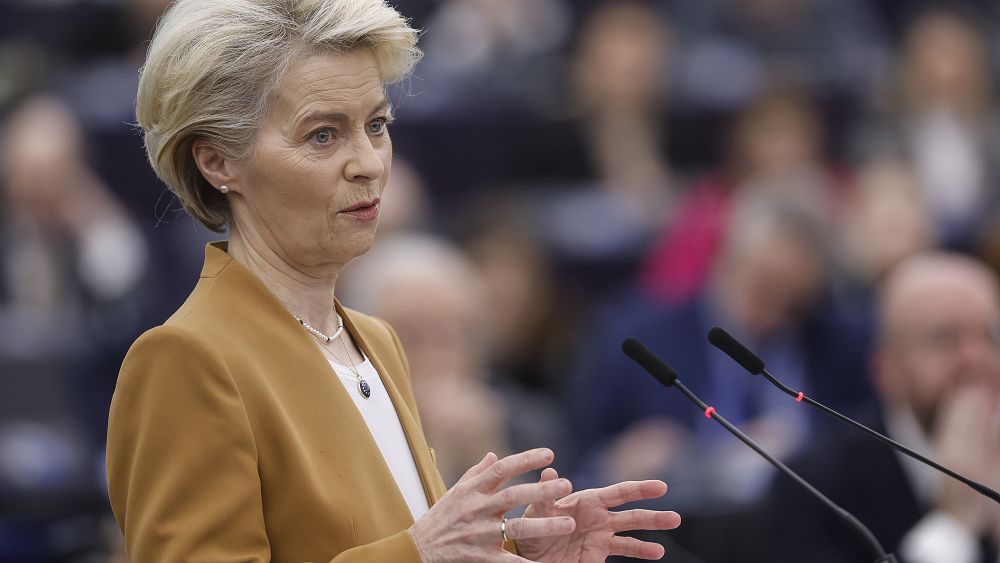 When you are about to be somebody's guest, chances are you find some nice words of praise for your host beforehand – just to make sure your visit goes well.
European Commission President Ursula von der Leyen took the opposite approach on Thursday.
Just days before her planned trip to China next week, she was brutally honest about Beijing.
In a critical speech, rarely seen in international diplomacy, she attacked China for its stance on Putin and Ukraine, its human rights violations at home and its economic retaliation against countries that don't share Beijing's point of view.
She also accused China of being more repressive at home and more assertive abroad.
"The Chinese Communist Party's clear goal is a systemic change of the international order, with China at its centre," she said during her first-ever speech on EU-China relations.
"We have seen it with China's positions in multilateral bodies, which show its determination to promote an alternative vision of the world order."
Nonetheless, Europe should keep its lines of communication open with Beijing, she added, but be bolder in standing up for democratic values.
Her remarks came against the backdrop of US President Joe Biden's second Summit for Democracy, a virtual global event with co-sponsors in four continents and the Netherlands representing Europe.
Biden promised billions of dollars to fund efforts to advance democracy around the world, to which the Chinese government reacted with scorn.
One of the participants, France's Emmanuel Macron, who will travel with Von der Leyen to China, voiced doubts that the current global architecture is not up to the tasks ahead.
"We absolutely need strong and legitimate institutions," the French president said this week.
"I fundamentally believe that we must rethink together, collectively, democratically, our international institutions, so that they can meet current challenges."
Inflation remains stubbornly high
Away from geopolitical tensions, when it comes to our daily lives, people will probably continue to feel the pinch for some time to come still, with core inflation across the eurozone hitting an all-time high of 5.7% in March, according to preliminary figures.
The numbers are a bleak reminder of how entrenched the phenomenon of rising prices has become.
Core inflation excludes the volatile prices of energy, food, alcohol and tobacco, and gives a more accurate diagnosis of the current state of the economy.
The indicator is closely watched by the European Central Bank to decide new increases in interest rates, which are meant to curb consumer demand and cool down prices.
Core inflation has never been this high since the introduction of the euro.
Looking at the broader picture, annual inflation across the eurozone stood at 6.9% by the end of March, a steep decrease from the 8.5% rate registered in February, according to the flash estimate released by Eurostat on Friday morning.
"Inflation sharply down in the eurozone. Good news!" said Paolo Gentiloni, the European Commissioner for the economy. "But core inflation remains high, driven by food and services."
Renewable energy gets a boost
In some positive news for the continent, EU member states and members of the European Parliament reached an agreement on Thursday to double the production of renewables across the bloc by the end of the decade.
Under the provisional deal, the share of renewable energy in the EU's overall consumption will need to be 42.5% by 2030 with an additional "aspirational" 2.5% top-up in a bid to reach 45%.
In 2021, renewable energy represented 21.8 % of energy consumed in the EU, according to Eurostat.
The new binding target set in the Renewable Energy Directive is below the 45% asked by MEPs but above member states' preferred 40% and ups the current target in vigour by just over 10 percentage points.
The new rules, which are part of the Fit for 55 package presented in summer 2021 to speed up the energy transition and slash EU emissions by 55% by 2030, now have to be formally approved by member states and by the entire European Parliament.